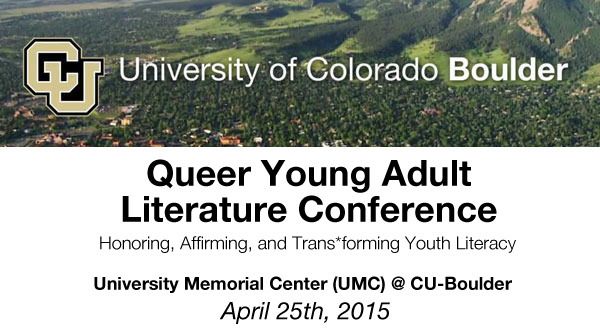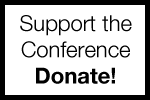 The world of queer YA lit is growing quickly, earning fans, and gaining a foothold in schools (not without some controversy!) Come meet queer YA authors, explore issues related to queer youth, promote identity exploration and queer visibility through literature, and strengthen the network of those who advocate for queer youth. Register to join us for author talks and signings, educational panels, and an awards banquet!
Who can attend this conference?
Anyone can attend so long as you're interested in learning more about queer YA literature! This conference is especially designed for:
Middle and high school students ($5)

College students, especially those interested in literature, queer studies, or education (CU: Free, All Others: $10)

Middle and high school teachers, educators, and librarians (CLAS members: $10, All Other Educators: $25)

University faculty and staff (CLAS members: $10, All Others: $25)

Community members, queer youth advocates, public librarians, and YA literature lovers ($25)
REGISTRATION FEE INCLUDES LUNCH. Conference admission will grant you access to all talks and panels, as well as your own lunch at the lunchtime awards banquet.



Where is the QYAL Conference being held?
The conference is being held at the University of Colorado at Boulder's University Memorial Center (UMC). The building has a food court and cafes (for food and drink other than the buffet banquet that's included in your ticket to the conference), as well as gender-neutral restrooms and handicap access. The UMC is situated next to the main campus bus stop and a large paid parking lot: go here for more information about directions, parking, transportation.


What authors will be speaking at the QYAL Conference?
This year's Queer YA Literature Conference features four acclaimed authors, who will each be giving talks and reading and signing their books.
Many of their books will be available for purchase at the conference, courtesy of the CU Bookstore!
Malinda Lo
The talented Malinda Lo grew up nearby in Lafayette, Colorado. Her first novel, Ash, a queer retelling of Cinderella, was a finalist for the William C. Morris Award, the Mythopoeic Fantasy Award, and the Lambda Literary Award. Its sequel, Huntress, was nominated for the James Tiptree, Jr. Award and named an ALA Best Book for Young Adults. In addition to her fictional publications, Malinda also researches and writes critically about the need for character diversity in YA literature.



To learn more about Malinda Lo, visit her website.
Malinda's full list of YA books can be found on Amazon
Julie Anne Peters

Local author Julie Anne Peters has written more than twenty award-winning books for young adults and children, including Luna (a National Book Award Finalist), Keeping You A Secret (a Stonewall Honor Book), and Between Mom and Jo (a Lambda Literary winner.) Her books have been released across the world in, at last count, eight languages!

To learn more about Julie Anne Peters, visit her website.
Julie's full list of YA and children's books can be found on Amazon
Alex Sanchez

Born in Mexico to parents of German and Cuban heritage, Alex Sanchez has traveled the world and authored many queer-positive YA books. His Rainbow Boys trilogy and other outstanding novels like Getting It and Boyfriends With Girlfriends have earned Alex many of the field's top prizes, including the ALA's Best Books for Young Adults, the Lambda Literary Award, and the Myers Outstanding Book Award.

To learn more about Alex Sanchez, visit his website.
Alex's full list of YA books can be found on Amazon
Sara Farizan

The daughter of Iranian immigrants, Sara Farizan grew up feeling different, not just because of her ethnicity but also because she liked girls and loved writing. Her first novel, If You Could Be Mine, won the Lambda Literary Award and was named one of the ALA's Rainbow List Top Ten. Her newest novel, Tell Me Again How A Crush Should Feel, earned a starred review from Booklist and has been praised for its vivid characters.

To learn more about Sara Farizan, visit her website.
Sara's YA books can be found on Amazon








What panels and workshops can I attend at the conference?
Presentations and workshops are individually designed for students, teachers, or everyone. Our current lineup includes:

The Reading-Writing Connection and Queer Identity with Mike Wenk - for teachers & preservice teachers

Youth Activism and GSAs - for everyone

"Breaking the Silence": Creating Safer Classrooms for Gender and Sexual Diversity - for teachers & preservice teachers

Creative Writing Workshop with Colorado Writing Project - for students

Librarian Book Talk: which queer YA books should you read? - for everyone

Teachers on Teaching Methods for YA Literature - for teachers & preservice teachers

Perspectives on "Allies": terminology and community - for everyone

The T-Word: A Trans*Primer with OutBoulder - for everyone

How do I nominate a teacher for the Queer Literacy Teacher of the Year Award?
If you know a literature teacher who has been a strong supporter of queer youth in schools, please nominate them for this year's Teacher of the Year Award! We are seeking an educator – a member of the queer community or an ally – who is resourceful, courageous, and compassionate. Candidates must have made a significant difference in the lives of queer youth in their schools through literacy activities that promote exploration and affirmation of queer identities and issues.

Submissions must be received by April 7th!


********* THERE ARE A LIMITED NUMBER OF SPACES! DON'T WAIT TO REGISTER! *********


Join the Event and Invite Friends on Facebook






This Non-Profit Conference is Sponsored By: